The Maine Office of Tourism has published a handy book of  33 "bike friendly" routes that cover the entire State.
With its beautiful scenery, bike-friendly roads and shared-use paths, Maine is a great place to cycle. In the mountains, along the coast, through the woods and over the beautiful byways in between, cyclists of all ages and skill levels find that cycling in Maine is a great experience.
MaineDOT has published all of the Maine bike tours in a handy book. The book includes: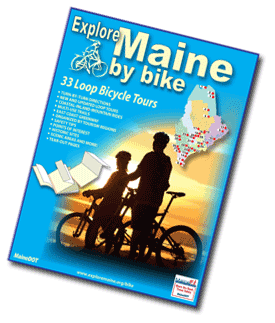 33 Loop Bicycle Tours
Turn-by-Turn Directions with Tear-Out Pages
Multiuse Trails
East Coast Greenway & Downeast Sunrise Trail
Mountain Biking Rides
Bicycle/Pedestrian Trails
Safety Tips
Point of Interest
Historic Sites
and more!
The Bike Book is available at our Maine Visitor Centers across the state. Visit our Visitor Center page for locations and contact information.